PaulaPsalm #2.65: With Gaga, all things are possible.
Let's talk about the Rolling Stone, shall we? The cover kicks ASS.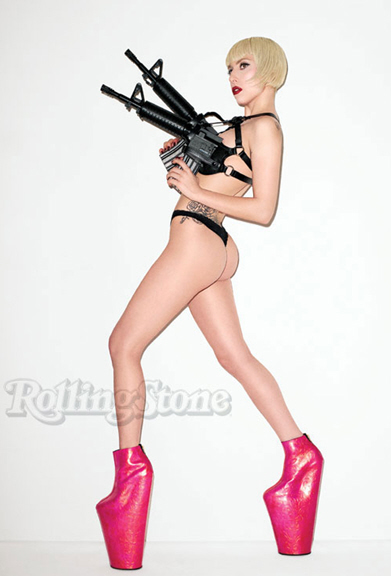 And speaking of which, shall we discuss the assness a bit? I know her booty is not that juicy. I love you Gaga, but you're too skinny and you may be Italian but I've seen your ass lately in shots that have NOT been photo-shopped and you got a flat, depressing white girl ass. You're suffering from a celeb epidemic - Ass Deficiency. I hope you seek help.
Rolling Stone has released dome excerpts from the article. Delish:
In the most extensive interview the pop star has ever given about the breakup that inspired her transformation from Germanotta to Gaga, her complex relationship with her beloved father and the music on her next album, Lady Gaga tells contributing editor Neil Strauss art is life and not being fierce isn't an option: "When I wake up in the morning, I feel just like any other insecure 24-year-old girl," she says. "Then I say, 'Bitch, you're Lady Gaga, you get up and walk the walk today.' "
And then she mentions my beloved Michael and my heart almost explodes:
Her priority is, and has been, the relationship she's built with her fans. "If I were to ever, God forbid, get hurt onstage and my fans were screaming outside of the hospital, waiting for me to come out, I'd come out as Gaga," she says, adding that she models her celebrity on Michael Jackson. "Michael got burned, and he lifted that glittered glove so damn high so his fans could see him, because he was in the art of show business. That's what we do. I don't even drink water onstage in front of anybody, because I want them to focus on the fantasy of the music."

And then she discusses LGBT issues and I wanna hold her tightly to my bosom:
As for the subject matter of the music, Gaga says she's moved on with writing songs about her quest for fame to crafting tunes with an angry, perhaps political bent.
"Why are we still talking about 'Don't ask, don't tell'?" she says. "It's like, what f-cking year is it? It makes me crazy!